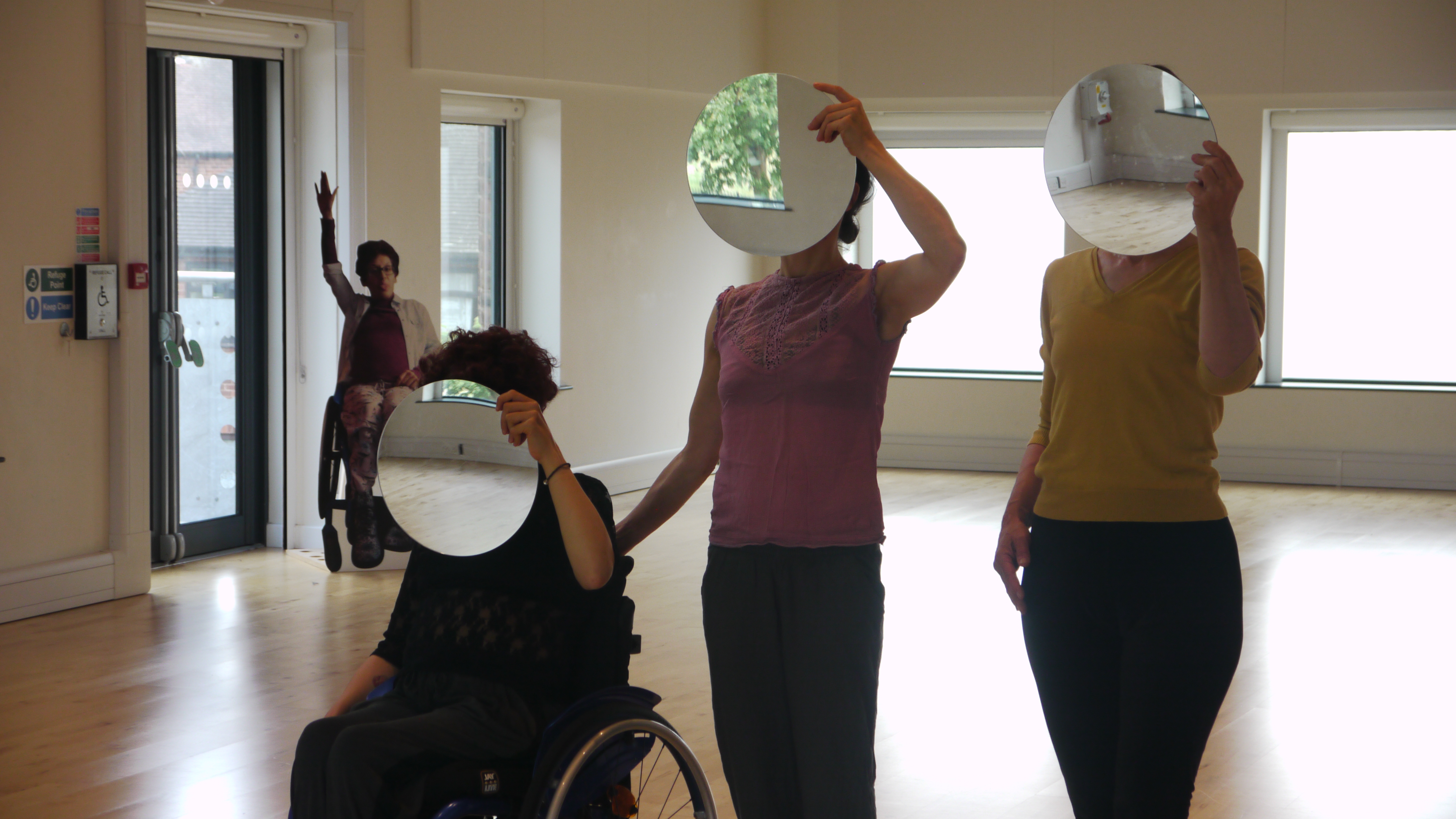 Posted on
5th October 2017
Peer Pleasure' – an intimate installation/performance with mirrors.
'Peer Pleasure – Kimberley' (2020)  – a film created to be an element of the final work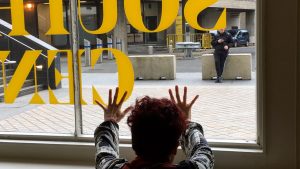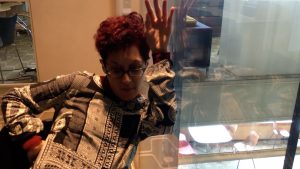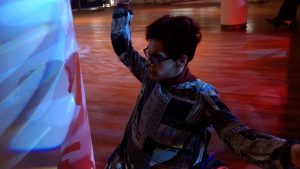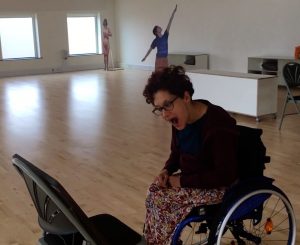 With the 'Kimberley' film (created using mobile phone footage) I integrate aspects of my residency research film (see residencies below) with footage of Kimberley's improvised movement material that was inspired by the conceptual ideas around the project and her own personal narrative. The film explores her personal relationship to space, how architecture and history contribute to both performer and audience behaviour/feelings and examines the politics of space: how space influences visibility and representation. Gaze is an important aspect of this project: what happens between the performers and between audience and performers? How does this affect perception of the performance process for both performer and audience member?
We filmed at The Southbank Centre two weeks before the Covid 19 lockdown (March 2020) but the video has been created (July 2020) through online collaboration between Kimberley (in London) and myself (in Nottingham). The Southbank Centre resonates with Kimberley as a place that, when she is not in lockdown, offers easy access with plenty of space for her to work with her laptop and people watch. She also has memories of performing with Candoco Dance Company there. To her it is like a second home.
The film is was exhibited in the 'PERSONAL SPACE: PERFORMANCE ART OPEN EXHIBITION' at Surface Gallery, Nottingham during the Covid 19 pandemic.
Dance4 residency 1st – 14th July 2019  and BACKLIT gallery 22nd – 26th July 2019 with support from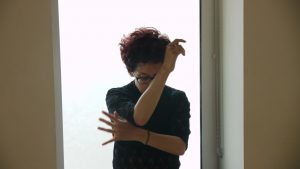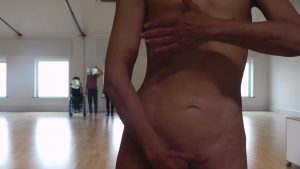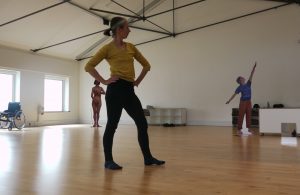 From exploratory residencies at Dance4 Nottingham and BACKLIT gallery July 2019.
The Covid 19 pandemic prevented me from moving on with my live performance project 'Peer Pleasure': I have therefore created a film to demonstrate ideas for future development from mobile phone footage that was only meant to be used as documentary footage of the early exploratory stages of the project. The film features a draft soundscape created by theatre maker, Daniel Ellis (adapted by myself) that uses text taken directly from political speeches, public information campaigns and commercial and cultural advertising/marketing. The music samples are : music listed by You Tube beneath the film, title theme from the film 'Midnight Cowboy' by John Barry and 'Tango de Amor' by Maciej Zielinski.
Performer/collaborators: Seraina Dejaco, Kimberley Harvey and Julie Moosburg.
We examined issues around propaganda, branding, and advertising and considered how much control we have over in our lives. The creative focus included solo and collective dance, pedestrian/ natural movement and choreographic exploration of the performer/collaborators' narrative together with the incorporation of text generated from marketing/branding/advertising and the performers' autobiography.
Examination of how visual and aural media infiltrate our consciousness was integral to the research process: mirrors were utilised as instruments of choreography, aesthetics and spectatorship, as a space to frame consciousness. Photo cut outs of the performers and an eclectic range of music also contributed to the research mix.
The residency  was based on my previous academic and practical research relating to marketing/advertising, branding, the use of mirrors in visual arts (too many references to mention but including Dan Graham, Chantal Akerman, Francesca Woodman) and film/TV references (particularly 'Midnight Cowboy', the films of Ingrid Bergman), music relating to advertising, film and  popular culture, 'The Mirror' poem by Sylvia Plath.
Further development will include the creation of films that explore each performer/collaborator's relationship to space, the politics of space and how space influences visibility and representation. I will investigate how these films can be incorporated both into non performance installation contexts and into immersive performances. How does the space in which the work is presented affect both performer and audience?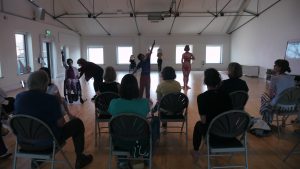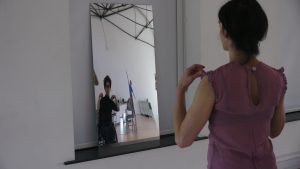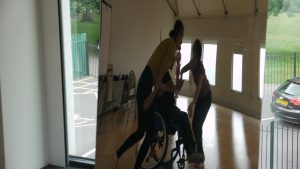 All photo images credit: Rebecca Carter
Artistic Residency – O Rumo do Fumo, Espaço da Penha, Lisbon, Portugal 7th – 17th August 2018.
Hosting with the support of Câmara Municipal de Lisboa / Divisão de Acção Cultural / Direcção Municipal de Cultura
Informal presentation: 13 August at 6.30pm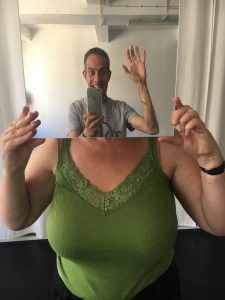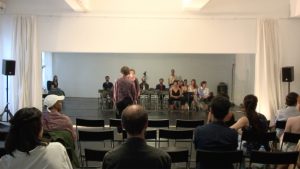 Initial research with artistic collaboration and performance by Miguel Pereira.
The residency focused on how our personal narratives are constructed and their relationship to the public persona and identity. How free are the choices we make about our lives? How are public and private identities interconnected? How do governments, organisations and corporations use their power exploit our need for emotional and psychological fulfilment and pleasure? Do we brand ourselves to hide our pain? How do we circumnavigate our way out of a life mapped out for us?
To what extent do social media platforms, political and social propaganda and commercial adverti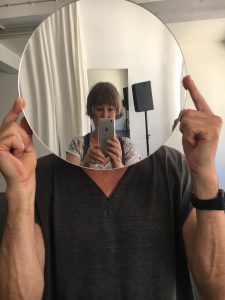 sing affect the decisions we make about our lives? How do they affect the lives of others?
TV and film culture
"You must have spent a third of your life looking in mirrors. My earliest recollection of you is standing in front of a mirror. Up until I was four I thought you was twins" Rodney speaking to Del as he gets ready to go out on a date.
Midnight Cowboy
Book by Leo Herlihy
"Joe could not resist using the mirror in his own peculiar way. He walked away from it, prepared his expression, his attitude, then spun around to surprise his image."
"It occurred to him that he was doing some thinking without the aid of a mirror and he wondered if it wasn't some kind of improvement."